King County Councilmember Larry Gossett
Metro Seeks Public Input on Ways to Simplify Fare Payment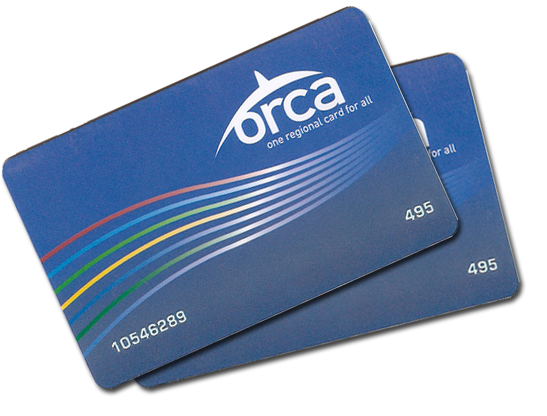 Currently, Metro customers are faced with a complex fare structure, including a surcharge during peak commute hours and another charge for trips that cross a zone boundary. For example taking the bus from one city to another, Rainier Beach area to downtown Renton is considered 2 zones and will incur an additional charge for the rider although the distance for the ride is fairly short. Metro and other transit agencies that use ORCA farecards are looking at ways to simplify fares. This includes reviewing all fares: youth, ORCA Lift, senior, peak/ non peak, zones, and regular fares. Metro has convened a fare advisory workgroup to ensure the input of various organizations - private sector, nonprofit, social service, government partners that have a stake in public transit have an opportunity to share thoughts on the fare structure. This group will share ideas about the varied populations they serve and give input on how Metro can simplify and improve the current fare structure.
We want to hear from you and Metro invites the public to provide direction on fare change options and longer-term work on fare-related issues by participating in an online questionnaire. You can take the survey online until Friday, April 7, 2017. There will also be a second online questionnaire and open houses to provide additional opportunities for feedback on fare change options.
Take the survey here.
---
Communities of Opportunity
Community of Opportunity (COO) started as an innovative partnership in 2014 between King County and Seattle Foundation based on the research that where a child grows up—the community in which they live—greatly impacts their health and well-being. This unique public-private and community-based partnership allows for a greater achievement impact and broader system change than if we approached the work in independent silos. Complex challenges require new approaches and real community engagement. This requires that community members be at the table from the beginning to harness their perspectives, relevant knowledge and lived experience. Community members have a vitally important role in shaping COO. Since 2015, over 90 community residents along with 45 community organizations and their leaders have co-designed solutions in partnership with our subject-matter experts at King County and Seattle Foundation. The COO mission is creating greater health, social, economic and racial equity in King County so that all people thrive and prosper, regardless of race or place.
The COO Interim Governance Group will meet to review applications and take a vote on recommendations at their March 17, 2017 meeting. For more information, click here.
---
Councilmember Gossett featured on Prosecutor's Partners
---
Celebrating Black History Month
Click here for information on the 10 year anniversary of the county logo
Black History Month is the history of our nation. Black History Month had its beginnings when famed activist, writer, and preeminent historian Carter G. Woodson influenced the American Historical Society in 1926 to designate the second week of February as "Negro History Week." Carter G. Woodson, founded the Association for the Study of Negro Life and History ( now called the Association for the Study of African American Life and History), chose the month of February because the birthdays of two individuals who were very influential in the lives of African Americans—President Abraham Lincoln, and former slave and abolitionist Frederick Douglass—were born in February. In 1976, as America celebrated its bicentennial, Negro History Week became Black History Month, a celebration recognized in the U.S. and Canada. Black History Month is a time to remember the important people, events, and contributions of African Americans, historically and currently, not only in the United States, but throughout the world. It is also a time to illuminate the contributions of black Americans in the United States and the world community. Take time this month to learn something new: http://www.blackpast.org/
Click here to read the King County Council's proclamation of the month of February as Black History Month in King County.
---
What's Happening in District 2
It's Spring and there are some exciting events happening. Here are a number of events happening throughout the district you may enjoy.
University District Farmers Market
Saturdays, year round
9am - 2pm
University Way NE (the "Ave"), between 50th & 52nd streets, Seattle, WA 98105
Remembering The Life and Legacy of Rev. Martin Luther King Jr. on the 49th Anniversary of his Assassination
Tuesday, April 4, 2017
6pm - 7:30pm
Martin Luther King Memorial Park, 2200 Martin Luther King Jr. Way S, Seattle, WA 98144

This special event is to remember the life and legacy of Rev. Martin Luther King Jr. on the 49th anniversary of his assassination. It was on this day in 1968 that Dr. King was fatally shot while standing on the balcony outside his second-story room at the Lorraine Motel in Memphis, Tennessee. The civil rights leader was in Memphis to support a sanitation workers' strike and was on his way to dinner when a bullet struck him in the jaw and severed his spinal cord. Join The April 4 MLK Commemoration Committee and many justice organizations in a gathering to honor Dr. King and renew our commitment to continuing the work. For more information 206-786-2763. View the event flyer.
Youth Summit 2017
Tuesday, April 11, 2017
10am - 3pm
Washington Hall, 153 14th Avenue, Seattle, WA 98122

This free summit is hosted by the Center for MultiCultural Health is an opportunity for young people to come together with key policy makers and influencers in King County and the State of Washington to network, organize, and create solutions to issues facing youth including marijuana, tobacco use and vaping. Free food, prizes & giveaways. Youth can earn 5.5 hours of community service. For more information contact and RSVP with Me'Kyel Bailey at mekyel@cschc.org or 206.461.6910.
Montlake Community Club Board Meeting
Tuesday, April 11, 2017
7pm - 8:30pm
Boyer Children's Clinic, 1850 Boyer Ave E, Seattle, WA 98112

All residents, property owners and business operators, 18 years of age or older, with street addresses in the Montlake neighborhood are members of the Montlake Community Club. Email: board@montlake.net for more information.
Free Credit Counseling Workshop
Wednesday, April 26, 2017 & May 24, 2017 (workshops held every 4th Wednesday of the month)
Urban League of Metropolitan Seattle, 105 14th Avenue, Suite 200 Seattle, WA 98122

This is a workshop to inform and educate you on your credit report. You can receive a copy of your credit report, learn how to read your credit report, what items impact your credit score rating, how to improve your credit score and learn about the fair debt collection practice act. This workshop requires registration, call 1-800-368-1455 or call 206.461.3792 for additional information.
27th Annual Youth & Law Forum "Wake Up, Stand Up, Speak Up!"
Saturday, April 29, 2017
8am - 3pm
First AME Church, 1522 14th Avenue Seattle, WA 98122

This free community forum for youth will provide practical information about the justice system and offer youth and their parents/guardians a safe environment for discussing and learning about legal rights and responsibility. The forum will include a thought-provoking keynote address by Angela Rye, an American attorney and the Principal and CEO of IMPACT Strategies, a political advocacy firm in Washington, DC. The workshops for the day will include topics on youth homelessness, appropriate responses to traffic and safety stops, the benefits and perils of social media, careers in law enforcement, entertainment and the law, and responses to trauma associated with bullying, harassment, racism, and community violence. The event will also feature guests from our local and federal court system, local police and sheriff offices, the WA State Bar, and the UW School of Social Work. Against the backdrop of recent political and election issues, it is critical that we have representation from young men and women from all racial, cultural and socioeconomic backgrounds. RSVP at https://www.youthandlaw.com/contact.html/ and for more information: email info@youthandlaw.com or call (206) 324-3664.
Willie Austin Day
Saturday, April 29, 2017
2pm - 5pm
Garfield Teen Life Center, 428 23rd Avenue Seattle, WA 98122

Come celebrate the life and legacy of Willie Austin. Willie was a well-respected strength coach and personal trainer who coached national and world champion weightlifters and trained both amateur and professional athletes. In 1988 Willie founded the Gym of Seattle, in 1992 he founded the Gateway Athletic Club and in 2004 he founded the Now Is Fitness Center and home of the Austin Foundation. Willie first began giving back to the community by serving as a guest speaker on physical fitness and drug-free living. During his on-campus presentations at area schools in 1990s, Willie began to recognize the growing need for accessible youth fitness programs. He saw firsthand youth struggling with diabetes, obesity, and asthma, many of whom weren't comfortable in regular gym class settings. He saw kids who couldn't afford the cost of athletic programs or didn't have safe access to physical fitness activities. The event to honor his life will include healthy food, fitness activities, mini health fair, and speakers. The event is free and open to everyone of all ages. To learn more about the life and legacy of Willie Austin and the Austin Foundation, please visit their website and RSVP.
35th Annual Nordstrom Beat the Bridge Run
Sunday, May 21, 2017
8am
Husky Stadium, 3800 Montlake Blvd NE, Seattle, WA 98195

Beat the Bridge on May 21 begins at Husky Stadium with runners then heading south across the Montlake Bridge. The race continues along 19th Ave, to E Lynn, right on Boyer and onto Fuhrman, and then over the University Bridge. This run/walk will benefit the Juvenile Diabetes Research Foundation. For more info, visit www.beatthebridge.org or call 206.838.5153.
---
King County Takes on Racial Disproportionality in our Juvenile Justice System
In 2001, King County implemented the Juvenile Justice Operational Master Plan, or JJOMP. Its intent was to decrease the number of juveniles being detained in King County's Youth Detention Center. While we were successful in drastically reducing the Average Daily Population (ADP) from approximately 200 in 2000, to our current ADP of approximately 60 youth, racial disproportionality increased in catastrophic ways.

For example, fifteen years ago, about 36 percent of youth in our detention facility were African American. Today, African American youth account for over 60 percent of the ADP. These numbers are beyond unacceptable, and call for a new paradigm shift in our system. As a result, in the fall of 2015 we convened the Juvenile Justice Equity Steering Committee (JJESC), a group of activists, organizers, and community members unlike any King County government has organized in the past. Many of the members of the JJESC represents our incarcerated juvenile population in terms of race, ethnicity, life experience, and cultural expertise.

While dismantling racial disparity is our top priority, it is just one part of a paradigm shift we are undertaking in our Juvenile Justice system. We need to stop criminalizing our youth, since studies show the longer and deeper a young person sinks into our system, the worse the outcome. This is not only counter to what our systems are SUPPOSED to do, it is counter to our stated principles of Equity and Social Justice. For more background information on this effort please visit:

http://www.kingcounty.gov/elected/executive/constantine/News/release/2015/July/29-racial-disparity-justice.aspx.

Community input on our workgroups will be critical to our success! Please check for the time and place of the JJESC monthly meetings.